Jake Lever
'Connected by a Thread'
This month I am preparing to exhibit a large Cyanoptype that I made during the Pandemic at St Andrew's Church, Shifnal. It will be the first time that the piece has been seen publicly as I made it at a time when communal spaces were off limits. Chris Thorpe, the vicar there, plans to use the piece during the Good Friday Liturgy.
During the first lockdown I went on daily afternoon walks to Highbury Park near my home in Kings Heath, south Birmingham. Life felt unsettled, destabalised, strange and weird. Normal reference points - the routine of work, the company of friends, trips to the shops were stripped away and I felt vulnerable and reflective. In the words of the musician Nick Cave, written at the start of the first lockdown, 'Our sudden dislocation has thrown us into a mystery that exists at the edge of tears and revelation, for none of us knows what tomorrow will bring.'
Like many, I found a sense of grounding and reorientation in the immense beauty of the natural world around me. The park which I explored daily had once been part of the estate of Highbury Hall, the Victorian 'country' residence of Joseph Chamberlain the politician and Mayor of Birmingham. In a corner of the park a large Southern Magnolia tree shed large, generous leaves that decayed very slowly, rotting down into a gauze of fine veins. These leaves spoke to me of the intense beauty of life, alongside its fragility. Not knowing why, I started to collect them on my walks and soon had hundreds of these delicate, gossamer-thin skeletal leaves.
Later that summer I started creating 'blueprints', or cyanotypes, an early photographic process first used by Victorian botanists such as Anna Atkins to record plants. I placed the leaves on to light sensitive paper and exposed them to the sun, creating a photographic impression of the leaves in negative - the veins appearing while out of a deep blue. For this 3 metre high piece I connected the leaves by their central veins and, after experimentation, a simple vertical line of them felt like the right composition. Many of the leaves are hanging upside down, reminiscent of beads of dripping tears. Their delicate latticework of tiny veins also recall the bronchial trees of human lungs. Here is breath struggling, leaves/lungs broken, damaged, half-there….the faltering breath of life.
There is strength in this image too. The connected leaves in negative are, for me, suggestive of the interconnectedness of all life in all its precariousness and fragility. Here is a kind of core, a spine of connected vertebrae, something raw and essential enduring after certainties have been stripped away.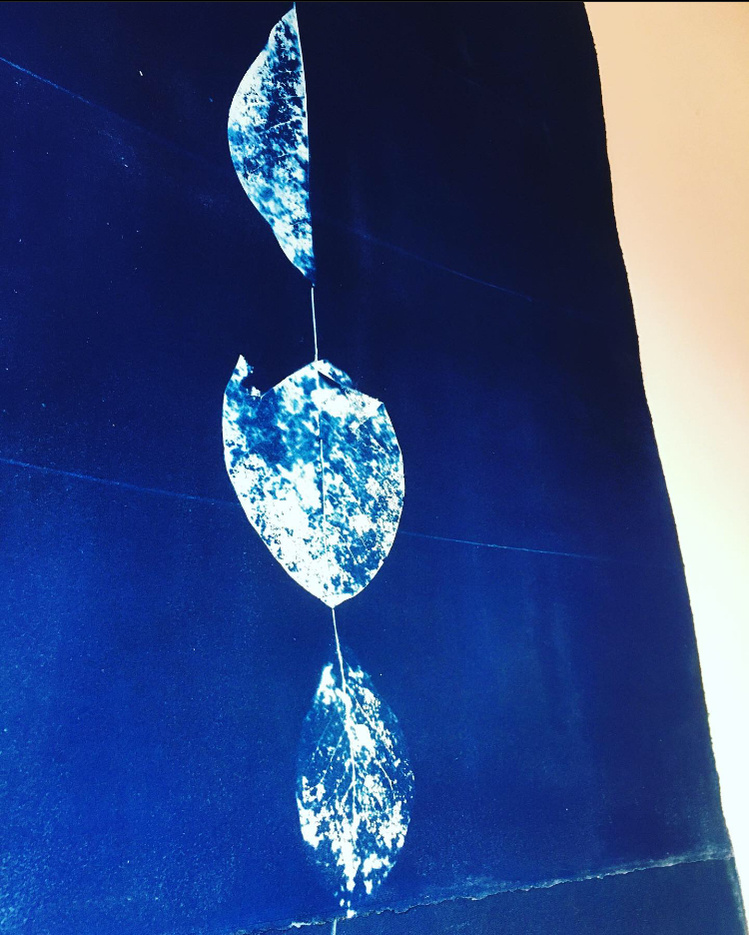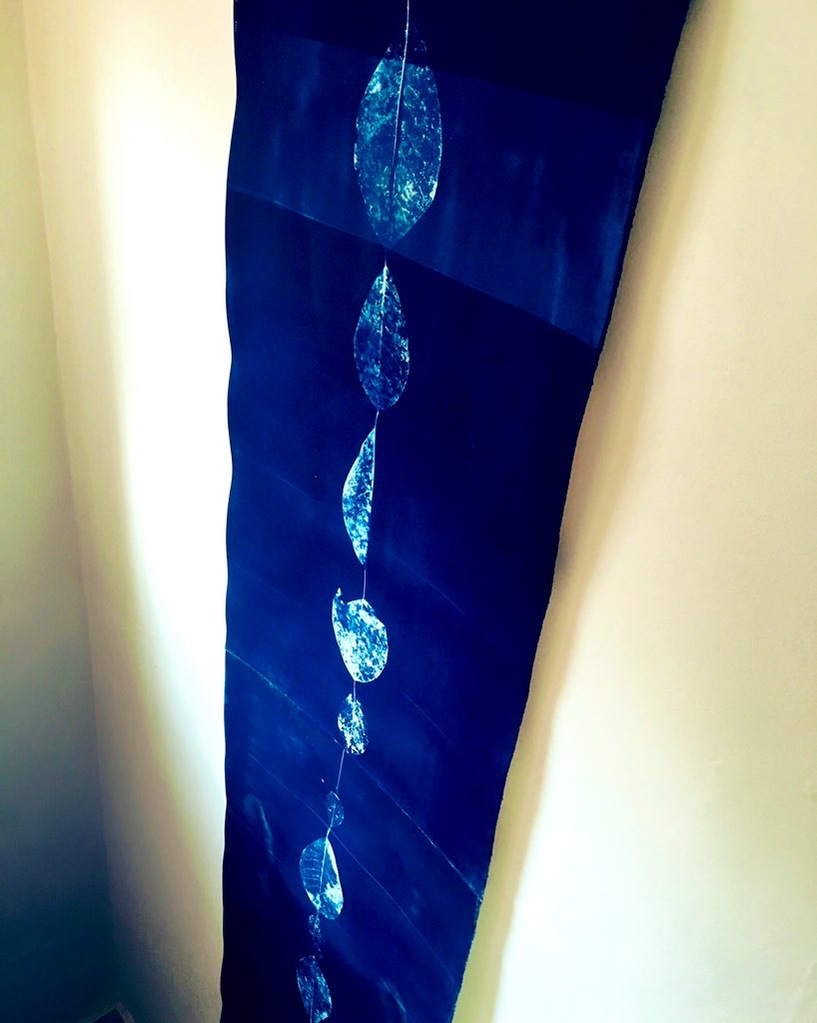 'Connected by a Thread' detail
Cyanotype on 410gsm Somerset velvet paper
July 2020
Gillian Lever
Spring Commission
In recent weeks I have been developing colour studies for a new commission. I will be soon be ready to move on to larger canvases. I am enjoying the gradually lengthening days and increased light levels.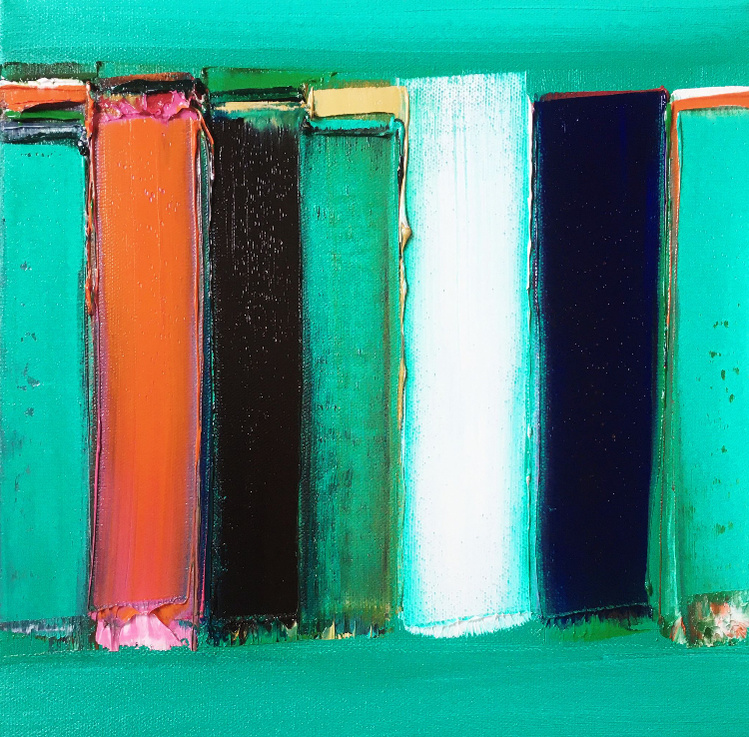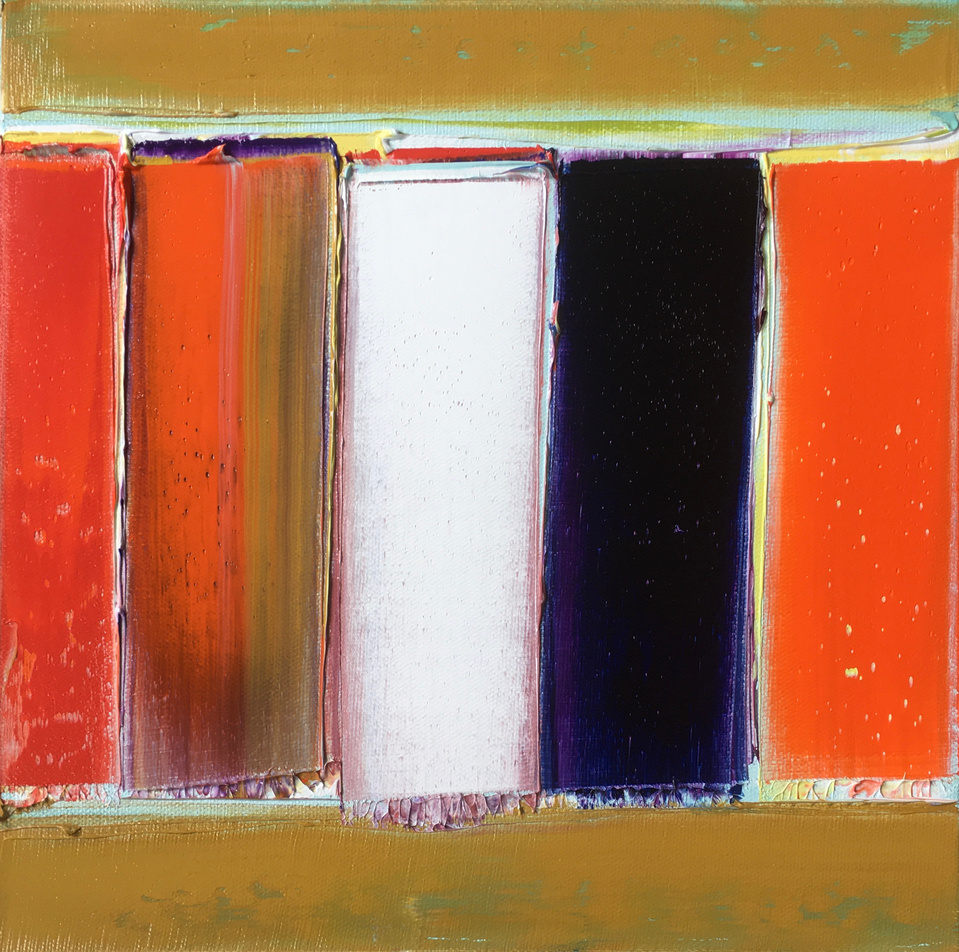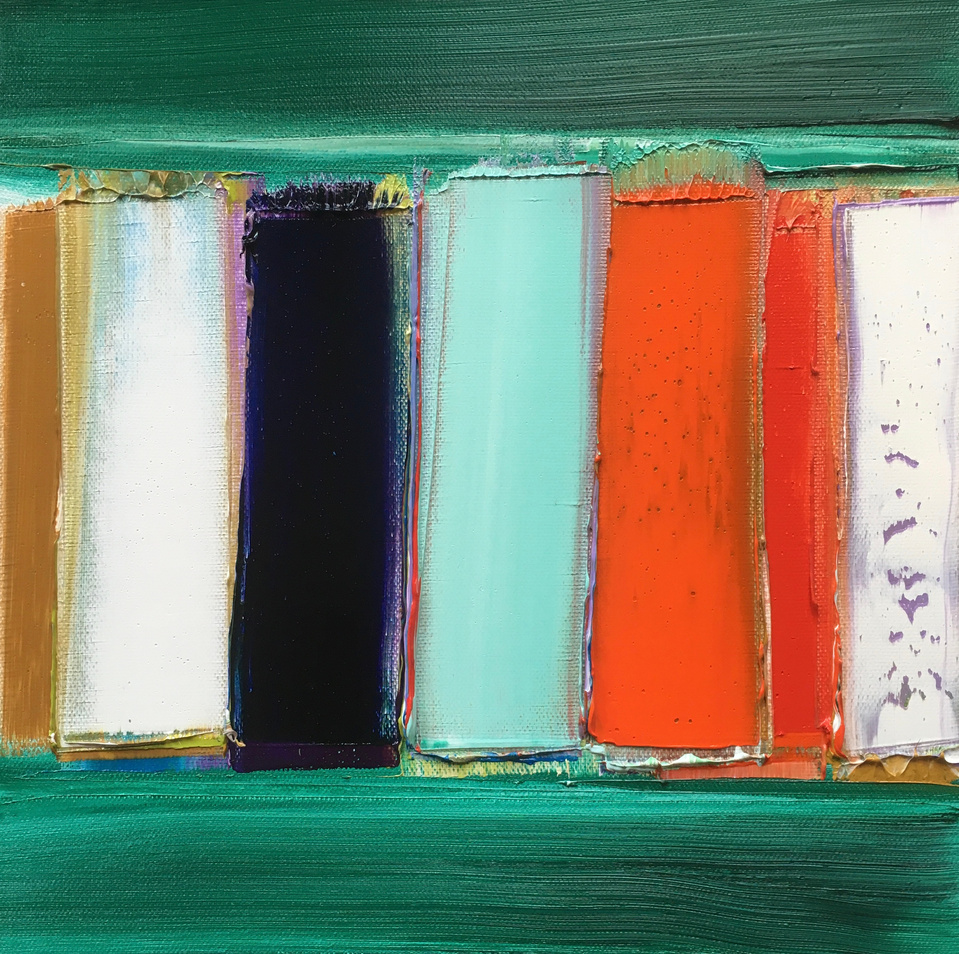 My client loves the colour orange and I have been taking colour references from Strelizia, the glorious South African Bird of Paradise flower.